Our Mystery Book Club selection for November was IQ by Joe Ide. I liked it. It is a story of strength, perseverance and survival in the face of adversity. It was quite a page turner and hard to put down.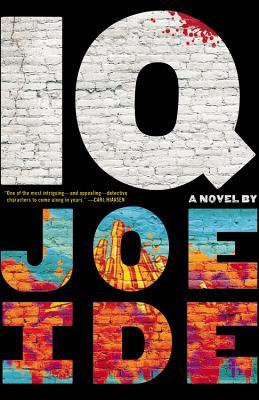 About:

A resident of one of LA's toughest neighborhoods uses his blistering intellect to solve the crimes the LAPD ignores.

East Long Beach. The LAPD is barely keeping up with the neighborhood's high crime rate. Murders go unsolved, lost children unrecovered. But someone from the neighborhood has taken it upon himself to help solve the cases the police can't or won't touch.
They call him IQ. He's a loner and a high school dropout, his unassuming nature disguising a relentless determination and a fierce intelligence. He charges his clients whatever they can afford, which might be a set of tires or a homemade casserole. To get by, he's forced to take on clients that can pay.
This time, it's a rap mogul whose life is in danger. As Isaiah investigates, he encounters a vengeful ex-wife, a crew of notorious cutthroats, a monstrous attack dog, and a hit man who even other hit men say is a lunatic. The deeper Isaiah digs, the more far reaching and dangerous the case becomes. "
The story goes back and forth between 2013 as Isaiah (IQ) is working his most recent case, and 2005, when Isaiah was still a teenager in this "bad" neighborhood.
In 2005, Isaiah is living with his older brother Marcus, going to high school, participating in school sports and doing ok. In a split second, his life changes when he looses his brother to a hit and run accident..
On his own, no family, no money no means of support, he has to make his own decisions. If social services find out he is alone, he will be sent who knows where. Does he get a job, join a gang, join in a life of crime?
Isaiah has some great qualities in his favor; intelligence, perseverance, patience, incredible observation skills and especially a conscious.
My thoughts:
I found the other characters interesting and amusing. Dodson is Isaiah's friend from high school. Deronda is an ex-girlfriend of Dodson's but is still hanging around. The banter between Isaiah and Dodson reminds me of the relationship and banter between the current Hawaii 5-0 McGarrett and Danny. Partners, would do anything for the other, best of friends but drive each other crazy. I found their conversations and those between Isaiah and Deronda funny. IQ is the straight man and they are the comedic sidekick.
As I read the book, I could see a movie playing in my head. The "security guards" for Cal the rapper, also mad me laugh. Not sure they were meant to be, but in all their seriousness, discussions, and showing off, they seemed kind of silly.
Now, the language throughout the book is bad. Lots of swearing. But...I see the language as a character in this book. It is part of that neighborhood and culture. I don't think the story would have worked as well without it. It is part of that culture.
The book club members' thoughts:
A few people put the book down after 50ish pages because of the language and the story line of a rapper. Just not their thing. A few more read it but again didn't care for the subject matter. The majority of the members liked it. They liked Isaiah and the similarities to Sherlock. A couple of people already had book two checked out.
There are two more IQ books in the series:
Book #2 is Righteous and #3 is Wrecked.
IQ received an Anthony Award for Best First Novel, Macavity Award for Best First Novel, and was nominated for and Edgar Award, Barry and Strand Critics Award for Best Novel and short-listed for The CWA John Creasey (New Blood) Dagger- 2018.
Joe Ide

is of Japanese American descent and grew up in

South Central Los Angeles. Joe's favorite books were the Conan

Doyle Sherlock Holmes stories. The idea that a person could face

the world and vanquish his enemies with just his intelligence

fascinated him. Joe went on to earn a graduate degree and had

several careers before writing his debut novel, IQ, inspired by

his early experiences and love of Sherlock. Joe lives in Santa

Monica, California.
I recommend it and I do want to read the next two books in the series.