I finished "The Long Way Home" by Louise Penny yesterday.
http://www.louisepenny.com/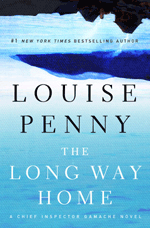 I had to take a day to think about what to say about this book. You will know why once you have read it. And especially if you follow the series. This is #10 in the Gamache series.
Chief Inspector Armand Gamache has retired from the force and moved to Three Pines with his wife. They are enjoying the life of leisure; breakfast at the café in the mornings, strolls in the park, casual dinners with their close friends at night. How wonderful...
One of their close friends Clara, after much thinking and agonizing, asks Gamache to put his Inspector hat back on and find her husband, Peter. They had agreed to separate one year ago and to meet at the end of one year and see how they felt about their relationship. Peter has not appeared as agreed upon.
Gamache agrees to help Clara and solicits help from his now son-in-law, Jean Guy to find Peter. Clara and their friend Myrna accompany them. They travel many miles, by car, plane and boat, and talk to many people searching for Peter.
Ms. Penny is able to make us feel we are on that journey. I felt the impatience, tediousness, exhaustion and waiting that the friends felt. They run into many dead ends and more mystery.
I also found parts of the story humorous. I could just picture four middle aged and older people running across a town center in their bathrobes at 6 a.m. as described in one part of the story. I find Ruth pretty funny. She and her companion, Rosa the Goose make me laugh.
As always, Louise Penny has written a great story with an unexpected ending.....
What did you think about it?