I have another good book for you.
Ruff Cut: Sheriff Megan Book 1 by Kasey Riley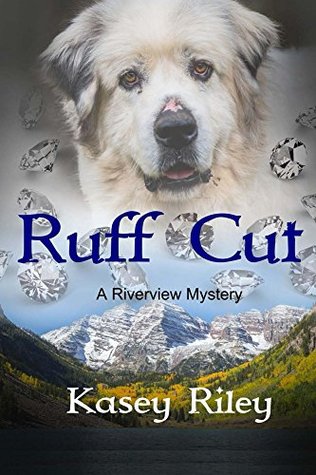 Here's what it is about:
"Army veteran Sheriff Megan Holloway has a lot on her mind. A dog with a bellyful of smuggled diamonds, a terrified woman hiding at the Bailey's Boarding House and a mafioso who is likely connected to both of them. What's that city crook doing in her town, anyway?

Add to that, the man Megan's been close to for the past year is flirting with another woman and, last night, she relived her personal nightmare of the war in Afghanistan, again…yeah, her life is just peachy. Her psychological trauma has kept her from committing to Aaron; maybe he's given up waiting for her. Maybe he's begun looking for a woman with less emotional baggage…

Forced to call in the proper government agencies, Megan fights to keep control of the investigation by hook or by crook. Protecting the citizens in her town is her first priority. Fortunately, she has an ace-in-the-hole the Feds don't. The citizens of Riverview trust her and will help her any way she needs.

F

ormulati

ng a plot to take down the crooks, Megan decides to play on their lack of knowledge about the denizens of the Colorado high desert, and she gives the villains just enough information. Will the trap be sprung and the leader caught? Possibly, if she can just keep the Feds from messing up her plan.

Riverview once again is the setting for this mystery. The small rural ranching town set in the high desert of Colorado where your neighbors are your friends and can be counted on to help when times get tough… or things get dangerous."
I loved this book; two mysteries, a romance and a dog all in one. The story starts out with Sheriff Megan Holloway searching for a lost boy at the R-B (guest ranch- mystery #1). We get a peek into Megan's background, skills and abilities and her decision to start the Riverview Mounted Search and Rescue squad. The main story of Megan cracking the major crime ring is quite a page turner. (mystery #2).

Aaron is Megan's love interest or vice a versa. Can't wait to see what happens with Aaron (romance) and the dog on the cover.
I was happy to see it end with : "The End...for now". I am ready to move on to the next book.
Kasey Riley has written four other books. They are stand alones BUT three of the four books feature characters/people in Riverview, where Ruff Cut takes place. This was interesting to me. It might just be a new experience for me but I have not read stand alones by the same author that take place in the same setting, where different characters are the main character(s) in the different books and others from another book, cross paths with the featured main characters. I like it. For instance, in Skeleton Trail: A Riverview Mystery, Megan is introduced but she is not the main character.
Ruff Cut has the first two chapters of Skeleton Trail as a preview at the end. (It also grabs you right away so I will be getting that book in a minute.) It looks like there is going to be a series that features Megan Holloway now.
Ruff Cut is so engaging, I was ready to sign up for Megan's Riverview Mounted Search and Rescue!
I received a free copy but voluntarily provided this review.