Our Mystery Book Club selection for July is A Kind Worth Killing by Peter Swanson.
What happens when the child of Nick and Amy Dunne (Gone Girl) grows up? You get Lily Kintner.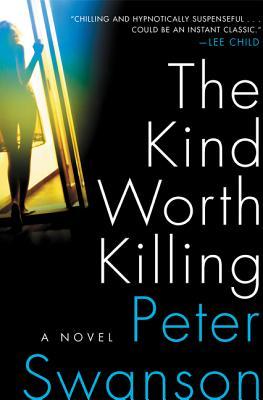 "
A devious tale of psychological suspense involving sex, deception, and an accidental encounter that leads to murder. This is a modern re-imagining of Patricia Highsmith's classic Strangers on a Train from the author of the acclaimed The Girl with a Clock for a Heart.

On a night flight from London to Boston, Ted Severson meets the mysterious Lily Kintner. Sharing one too many martinis, the strangers begin to play a game of truth, revealing intimate details about themselves. Ted talks about his marriage and his wife Miranda, who he's sure is cheating on him. But their game turns dark when Ted jokes that he could kill Miranda for what she's done. Lily, without missing a beat, says calmly, "I'd like to help."

From there, Ted and Lily's twisted bond grows stronger as they plot Miranda's demise, but soon these co-conspirators are embroiled in a game of cat-and-mouse--one they both cannot survive--with a shrewd and very determined detective on their tail."
This one is hard to put down and has a turn in the middle that makes you say "ohhh". It is told in the first person by four different characters, Lily, Ted, Miranda and the detective. I liked that style in this story. You could see what the characters were thinking and how they got to where they did more than a traditional third person story.
I then watched the movie Strangers on a Train directed by Alfred Hitchcock. I had seen it before. I have seen most of Hitchcock's movies. But I didn't remember it in detail. I would say they are pretty close (although one starts out on a train, one on a plane), but then there is an added twist in the middle taking the story to a different level.
And then there is always Throw Momma From the Train. A hilarious take off of Strangers on a Train. I love that movie. :)
Criss cross....