Wow. I didn't realize I had been gone so long. Between work, air conditioning ups and downs and tooth ups and downs (hoping both make it through the summer), July has flown by. Did I mention the heat? 25+ days over 100 F. Hit 107 a few days ago. Kind of sucks the energy and ambition out of you. But now it is August which is a countdown to fall -which may be October here.
I really wanted to tell you about a 3 part series that just finished (I know, I know) on PBS. Remember Me.
I didn't think it was something I would want to watch. Looked like some melancholy drama by the title and short description I saw. As I looked more into it, I went ahead and recorded it. It is not a melancholy drama.
Looks who's in it. Michael Palin. I know him from Monty Python. I never would have looked for him in this roll. Also Julia Sawalha. She played Saffron in Absolutely Fabulous. (Ok so now you know my other side.)
Here is what it is about:
" Michael Palin's portrayal of pensioner Tom Parfitt, who stages a fall in his eerie Yorkshire home in order to escape into residential care, leading to a chilling and macabre mystery.
At the age of "eighty-odd," Tom Parfitt sits alone in his terraced house in the otherwise entirely Asian community of a small Yorkshire town, and remembers a strange drowned figure washed up on a beach. Tom carefully fakes a fall, to trick his social worker into taking him into residential care."
And then someone apparently falls out of the window of Tom's room and dies.
And then there is water pouring down the stairs from the attic of Tom's house.
And there are shells lying on the floor.
And there is a locked attic with a creepy saree that may be moving.
More water, more shells, more creepiness.
This is a supernatural mystery that will give you the willies. Palin and Sawalha are really good in these characters. Other leading actors in the series are Mark Addy and Jody Cromer.
You can watch it on line on PBS still.
Four new Garage Sale Mysteries are coming up this month. I really like these.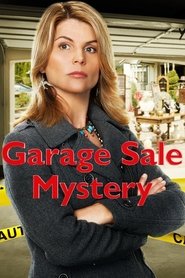 August 6: The Beach Murder
August 13: Murder by Text
August 20: Murder Most Medieval
August 27: A Case of Murder
All premiere on Sundays at 8 central time.