Hope you are off to a good start with reading for 2016.
For our January Mystery Book Club, we read books by Ruth Rendell/Barbara Vine.
Per Wikipedia:
"Rendell's best-known creation, Chief
Inspector Wexford
, was the hero of many popular police stories, some of them successfully adapted for TV. But Rendell also generated a separate brand of crime fiction that deeply explored the psychological background of criminals and their victims, many of them mentally afflicted or otherwise socially isolated. This theme was developed further in a third series of novels, written under her pseudonym
Barbara Vine
."
This is a new author for me. Maybe I read some of her books years ago, and don't remember.
I decided I would start with the first Inspector Wexford book.
From Doon With Death was published in 1964. It introduces Chief Inspector Wexford and Inspector Burden and takes place in Kingsmarkam. Ronald Parsons has reported his wife, Margaret missing. The Parsons have recently moved back to Kingsmarkam where Margaret attended school. She is a housewife, very few friends and doesn't really socialize other than church activities. It is very uncharacteristic for her to be gone with out a word. Then Margaret is found dead in the woods.
Wexford and Burden systematically put together clues to discover what has happened to Margaret. In searching the Parson's home, Wexford finds a trunk in the attic containing books with inscriptions written to Minna from Doon. The inscriptions suggest a love affair. But no one seems to know who Minna or Doon are. How are these books related to Margaret? A lipstick was found where Margaret was found. How is that related? Whose was it?
Wexford and Burden trace Margaret's stops around the village on the day she went missing. The question several of Margaret's school mates that still live in the village. Many of them heard of Doon when they were in school, but don't know who Doon is.
Wexford and Burden painstakingly follow the clues until they discover the mystery.
I enjoyed the book. It reminded me of many of the current day English mysteries such as Inspector Lewis and Midsommer Murders. I believe there were 23 in this series. And some were made for television in the 1980's. It was a little messy towards the end, confusing as to who was who and who did what. But probably part of being the first go at this character etc. It all worked out in the end.
Then I decided, why not read one written as Barbara Vine. Again I chose the first novel; A Dark
Adapted Eye published in 1986.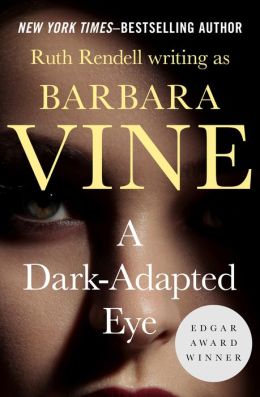 This story is told in the first person by Faith. She is telling the story of her aunt, Vera Hillyard, who was hanged for murder, in England in 1949, I believe. Many articles have been written about Vera over time but now a writer, Daniel Stewart, has contacted friends and relatives to get their accounts of what happened.
We go all the way back 30 years and are told the story of Vera and her family.
From Wikipedia:
"Largely set during World War II, the story is told by Faith Severn, who at the prompting of a true-crime writer recounts her memories of her aunt, the prim, fastidious, and snobbish Vera Hillyard. Vera's life is initially centered on her beautiful younger sister, Eden, even to the exclusion of her own son, Francis, with whom she has a poor relationship. Later, Vera has a second son, Jamie, to whom she is intensely devoted, while Eden marries the scion of a wealthy family.
When Eden is unable to have children with her husband, she begins to demand custody of Jamie, who she claims is being poorly raised by Vera. To the bewilderment and shock of the rest of the family, the custody battle escalates to violent levels, leading to tragedy and a series of disturbing revelations."
Barbara Vine won an Edgar for this book and it was made into a t.v. movie in 1994.
My take: I almost put the book away after reading 70 pages because it was very wordy, descriptive and I couldn't quite tell what it was going to be about. Then the story began. Like From Doon with Death, there are ALOT of characters in this story and sometimes Faith talks about or to a person and you don't know who the person is in the scheme of things. All through the story, we don't know who Vera murdered. But Rendell/Vine weaves together all the unattached loose threads at the end of the story.
At our book club meeting, we read some biographical information before we all talked about which of the Rendell/Vine books we read. As everyone told about the book they read, it became evident that she took some things: experiences, family, jobs, from her own life. A wide variety of books were read from the first ones published, up to the last, published in 2015.
Overall, I think we all enjoyed the books. I am looking around to see if I can find the t.v. movie of either of the books I read.