For our June Mystery Book Club, we read award winning books for 2016, published in 2015. You can find the list at Stop Your Killing Me:
http://www.stopyourekillingme.com/
I read The Accidental Alchemist by Gigi Pandian. This book won a Lefty Award for Best Left Coast Crime.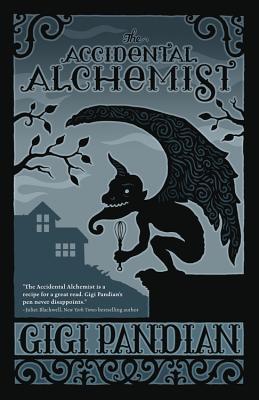 "When Zoe Faust--herbalist, alchemist, and recent transplant to Portland, Oregon--begins unpacking her bags, she can't help but notice she's picked up a stow away: a living, breathing, three-and-half-foot gargoyle. Dorian Robert-Houdin is no simple automaton, nor is he a homunculus; in fact, he needs Zoe's help to decipher a centuries-old text that explains exactly what he is. Zoe, who's trying to put her alchemical life behind her, isn't so sure she can help. But after a murder victim is discovered on her front porch, Zoe realized she's tangled up in ancient intrigue that can't be ignored."
I loved this book! I would describe it as a fun mystery.
Zoe is older than you think. Dorian is an expert chef in French cuisine, and well he is a gargoyle. He cooks for her so she can stay on track and help him. But a murder and near murder happen that get in her way. Then there are the neighborhood teenagers that keep hanging around and get a little too nosy for their own good.
The author combines historical figures with modern day. For instance, Dorian's father was Robert Houdin. He was a real person. The first magician. Houdini took his stage name from his name. Dorian was a gargoyle made by Eugene Viollet le Duc who is famous for restoring Notre Dame Cathedral and added a gallery of gargoyles. How about Nicholas Flamel. Legend says he that he "made the
Philosopher's Stone
, which turns base metals into
gold
, and that he and his wife
Perenelle
achieved
immortality
through the "
Elixir of Life
"." Wiki
I love Dorian, the gargoyle. The picture in my mind of him in the kitchen in an apron made me laugh. The food he cooks sounds wonderful.
There are a few recipes at the end. I made the cookies. They are great!
Mystery, history, food, antiques, spooky houses, creatures and people from the past. All of my favorite things. Plenty of twists and surprise ending though. I am thrilled to see there is a book two out.
In case you are wondering about alchemy, here is a link to some information. (I had never heard of it other than some program at work. Now I am wondering why they called it that.)
https://en.wikipedia.org/wiki/Alchemy