I talked about Chris Ward last week and I read his book The Man by the Sea. I wanted to share his third book in the Edinifinium series, The Lost City of the Ghouls.
I had a chance to read this book, although I haven't yet read the first two. I wouldn't say you have to read the first two, but probably would be good to do. I wasn't lost in reading the story, but I do want to know how it all started.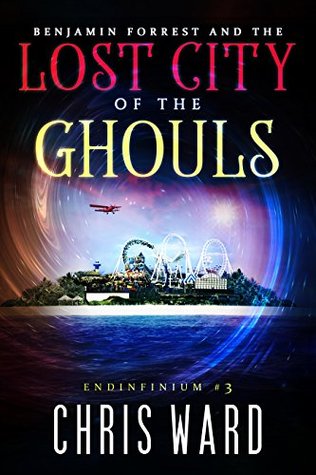 Here's what it's about:
"At the end of everything ... there is a new beginning.
Benjamin Forrest and his friends witness their first triangulation, a ceremony for Endinfinium High's graduating pupils, where they can choose whether to remain with the school or make their own way in the world. Three brave pupils opt for adventure, but when, a few weeks later, one is found wandering in the Haunted Forrest, pursued by dangerous ghouls and babbling about a lost city, Benjamin and his friends are thrown into their most dangerous situation yet.
For the Lost City of the Ghouls is coming ... and it will stop at nothing to destroy Endinfinium High once and for all."
The first two books are:



Benjamin Forrest and the School at the End of the World




Benjamin Forrest and the Bay of Paper Dragons
My thoughts:

If you like YA fantasy, this would be a great summer series. Harry Potter meets Disney. There is lots of action and suspense as all fingers point to Benjamin to save his friends before the Lost City of Ghouls lands at Endinfinium and turns everyone into ghouls!. Beware - a big cliff hanger at the end (as Chris Ward is really good at), leaving us wanting the next installment NOW.
The first two books are on my TBR list. I am reading some books that aren't mysteries lately. I have just been exposed to so many good ones of other genres lately. :)
( I received a free copy and voluntarily provided this review).